STILL MOTOR BIKING…SPEDDING IN THE SPOTLIGHT
Iconic guitarist Chris Spedding celebrated his remarkable career in music with a splendid 50th Anniversary concert in London on June 29. He performed with a special All-Star group and also took part in a Face to Face Question and Answer session with Melody Maker's Chris Welch in front of a large and appreciative audience.
Fans had come from as far afield as Japan and Germany to see Spedding in action, both as raconteur and performer. After a blistering set, cheers and applause rang around Nell's Jazz & Blues, the comfortable and friendly venue in North End Crescent, West Kensington.
Chris was in fine form, happy to talk about his early days, when he discovered rock'n'roll, joined his first band The Vulcans and went on to play with a huge variety of artists from Pete Brown and Jack Bruce to Brian Ferry, Sir Paul McCartney and Jeff Wayne.
As session man, composer, producer, singer, band leader and guitarist, Spedding has certainly packed in a lot during his fifty years in the studio and on the road. As well as playing on countless sessions with the stars he has recorded a plethora of solo records and albums with groups ranging from the Battered Ornaments to Nucleus, the Vibrators and Sharks.
MOTOR BIKING
During the Q & A on stage, Spedding settled on a high stool and told an amusing story about the pop promo video made for his 1975 solo hit single Motor Biking that was due to be shown on BBC TV's Top Of The Pops.
Health and safety ruled and the hell raising stunt 'biker' hired to appear in the film was advised by the BBC to keep wear a crash helmet, stick to the speed limit and give proper hand signals, as he puttered slowly around the streets, dutifully pursued by a camera car.
There was so much to reminisce about that the 25 minute Face To Face had to be curtailed to make way for the musicians, waiting impatiently in the dressing room and ready to rock. The band included superb drummer Henry Spinetti, with Marc 'Archie' Arciero of Waterboys fame on bass guitar, and Jono Harrison on keyboards. A tight team, they benefited from some pre-gig rehearsals at Bush Studios, and they did Mr. Spedding proud.
Among the highlights of an hour and a half set was a raunchy version of the old Johnny Kidd & The Pirates rocker Shakin All Over with Chris delivering the famed guitar break on cue backed by spot on drumming from Henry. Chris also played a haunting solo on the country rock-ish Silver Bullet from his 1977 album Hurt.
Another treat was the groovy Mary Lou, a song that can be heard on both Just Plug Him In (1991) and Geshundheit! (1995). Another favourite given an upbeat workout was Catch That Train, Chris singing and strumming with intense concentration as the band locked into support mode.
A slow, funky version of Little Richard's Rip It Up was sparked by Spinetti's masterful drums while Chris seemed inspired to even greater heights of improvisation. "He sang that really well"! shouted guitarist Davy O'List of the Nice and The Attack in my ear, as we watched the show amidst the crush around the stage. "And it's amazing how many different styles he can play".
Spedding's perfectionism came to the fore on Motor Biking when he suddenly stopped the tune after a few bars. "We can do better than that," he said turning to the band. Henry smiled in agreement. Was it the tempo or the key? Whatever the problem, they were quick to re-start with renewed energy and a Jerry Lee Lewis style keyboard solo from Jono drew cheers and a yell of 'Yeah!' from the bandleader.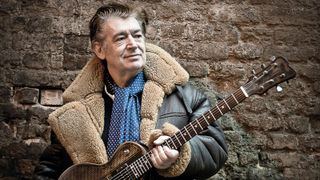 (Image: © Will Ireland/Future)
GUITAR JAMBOREE
The audience was further delighted when Chris played his old favourite the Guitar Jamboree, making his guitar talk and playing brilliant pastiches in the styles of Chuck Berry and Jimi Hendrix, not to mention Eric Clapton, Keith Richards, George Harrison and Jeff Beck.
"More!" shouted the fans and the band returned for a well deserved encore. It was back to rock'n'roll and the Summer Time Blues, reviving the spirit of the late Eddie Cochran, still bringing music to life in the summer of 2018.
FOOTNOTE: A beaming Stuart Lyon, the club's promoter, was well pleased with the night's events at Nell's. He had also been celebrating his own 50th anniversary, as one of London's best known and active sponsors of 'live' music. Stuart launched his first venue, London's legendary Hampstead Country Club way back in 1968, the same momentous year that Chris Spedding became a full time professional musician.
Stuart recalls the first band to appear at the Country Club was Spooky Tooth. He also remembers a young David Bowie playing some of his earliest gigs there, as did Peter Frampton and Steve Marriott with Humble Pie.
Earlier this year Stuart dedicated shows that celebrated his fifty years of promoting, to the memory of Spooky Tooth's lead singer Mike Harrison, who died on March 25th 2018 and to their former drummer Mike Kellie, who died on January 18, 2017.